Strive For Recognition With These Slimalicious Bottles
The fact is, us as consumers strive for customer loyalty and attention. We love being recognised and acknowledged for the things we want and need. Businesses should know by now that the best way to grab customer loyalty and attention is to provide us with the products we would love to have available. However, many businesses find it difficult to find "that" product that is...
beneficial
of great quality
efficient
practical
Here at drinkbottles.com.au, we are the number one leading supplier of fantastic drink bottles, all varying in...
You will not find one bottle that is the same to the other as we have a HUGE range of attractive styles; all available in bulk ordering!

The Slimalicious Sports Bottles are one of our all-time favourites. They are tall and slim sports drink bottles that can hold up to 755ml of liquid - meaning you will always stay hydrated with one of these promotional products at your side. The metallic blue or red colour options are sharp and exciting, perfect for the outdoor individual who this promotional product is geared towards. Metal Sports Bottles have a re-sealable plastic lead and can be personalised with your company logo and name.

These slimalicious sports bottles are what your consumers need as they are...
Handy; when your customers are out and about, they would need to stay hydrated, and these slimalicious drink bottles are the bottle your customer needs.
Strong; won't break as they are made out of strong metal that also help keeps your drink chilled.
Lightweight; unlike many metal drink bottles that are usually too heavy for some people's likings, our Slimalicious bottles are lightweight.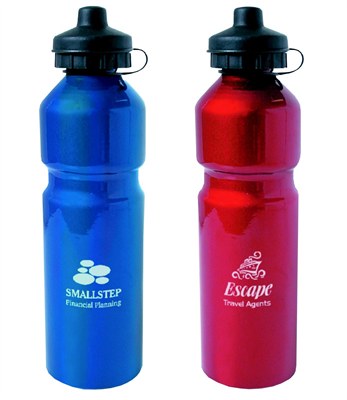 30 September, 2015
The Drink Bottles Team